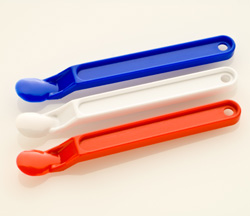 The Original Scotty Peeler
SPN-1
Scotty Peeler SPN-1
plastic peeler for paper products
the original Scotty

Our original all plastic Scotty Peeler is terrific at removing labels off of paper or other soft surfaces. Its non-stick surface peels labels away easily without damaging. Scotty Peelers traditionally come in red but may be ordered also by quantity in white or blue. Contact our sales office for colors other than red.
How to Use Click Here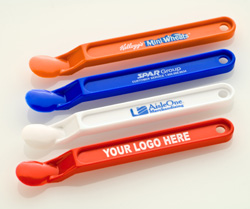 Terrific Promotional Item!
The Personalized Scotty
SPN-1 Personalized
Customized Scotty Peeler SPN-1 is personalized with your name or logo. The perfect give-away to further your brand.
The personalized Scotty Peeler can be imprinted with your name or logo. It makes a great promotional item for your business whether you own a merchandising company or a beauty salon. When receiving it in a store, at a convention or in the mail, customers will appreciate getting this truly useful little tool and will remember your business. Both unique and useful, people will keep Scotty Peelers around and think of your business every time they use it. Contact our sales office to place a custom Scotty Peeler order. There is a minimum 200 order required.

How to Use Click Here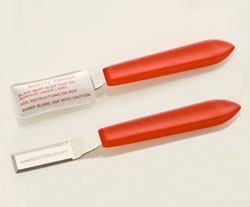 SPN-2
The Scotty Peeler SP-2 with its metal blade built to use on glass or other hard surfaces-great
for tougher jobs.
With its three-sided sharp metal blade made of surgical grade stainless steel which is sharpened to a razors edge, and its easy-to-grip handle, the SP-2 is the ideal tool for removing sticky labels off of hard surfaces. A long lasting tool with a multitude of uses, the SP-2 is excellent to use on both metal and glass.
How to Use Click Here